Simple. Timeless. Memorable.
At Daur, we believe in creating an identity of the brand to make it a shark in the red ocean.
DaurCom is a one end destination for brand-building solutions. We promise to provide a set of services with customised packages suiting and fulfilling our client's requirements to the maximum potential.
LEARN MORE ABOUT BUSINESS CONSULTANCY PROGRAM

Creative and useful content
Delivering quality consistency
Establishing Business Credebility
It takes time and strategy to build a brand identity, and we can help you get started. DaurCom shall purvey advertising, branding and ORM strategies to establish a business as a brand for future sustainable growth. Services inclusive of our consultancy programme are as follows:
Strategy Services
Advertising
Using our mind-mapping technique, we facilitate qualitative research for a brand project. We collect data from trusted sources, analyze the data, and compile it to pull out the most relevant information for advertising your brand.
Targeting a suitable niche and segmented audience for the need of product/ service (PaaS, Saas) is a piece of work that needs to be well researched, developed, guided and then executed.
Targeted promotion and social media amplification strategies provided by Daur will instigate the transformation of your business brand.

Branding
Daur specialises in showing brands how to do more with less by leveraging cost-effective resources that help them grow and manage their business. We always keep YOUR bottom line in mind. By applying all factors necessary for efficient branding, we enhance your brand visibility in the market followed by brand affinity. In the longer run, we aim to enkindle customer trust by applying all factors necessary for efficient and effective branding.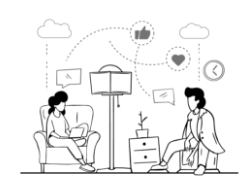 ORM
Online Reputation Management is the process of maintaining a brand's reputation on the online medium by managing negative reviews, feedbacks, testimonials and pushing the platform upward on targeted search engines. Following the "we see, we preach" model, we incubate our handles with positive genuine remarks of your brand.
Apart from the above, DaurCom will be at your assistance for the following:
Consultation Factors

Daur is committed to building your compelling story, establishing a distinction and providing consultancy to attract loyal customers.
Team Calls

Free consultation via phone or email, it's your choice
Media Planning

Free consultation via phone or email, it's your choice
Content Management

Speak your mind. Tell your story, Show your expertise. Content is king when it is useful, meaningful, and enriching to your audience. In an age flooded with content, with published authors on our staff, first-hand fresh storytelling is our thing! Daurcom's competent content creators manage brand impressions with the power of their words, bidding goodbye to Ctrl C and Ctrl V.
MoodBoards

Mood boards go a long way in brand representation and recall with the design aesthetics for all social media platforms. The ideation is important as the visual identity of the brand represents the vision and objectives.
Reach Out
Daurcom

New Delhi, Mumbai, Indore, Gwalior